| | |
| --- | --- |
| | |
| | |

ECO MOSQUITO TRAPS

The problem of mosquitoes in the Caribbean area is not longer limited to irritating bites and zooming noise around your head when you are a sleep. Diseases like Dengue and Chikungunya are a serious healthcare threat.
Spraying insecticides on your body and using bug sprays in and around your house does not only scare away or damage the mosquito. It also ruins nature and poisons your own environment.

For this reason Bon Eco Solutions has been testing several ways and systems to get rid of the mosquito problem.

We've found a great solution with minimal environmental impact:
The mosquito traps from Biogents® catching between 50-500 mosquito's weekly!
We offer two different tiger mosquito traps that work the same.
• the Mosquitaire (large mosquito buster)
and his smaller sister
• the Mosquitito (small Mosquito Buster).
All of Biogents' traps use the same patented technology that beats any electric or ovi trap. An integrated fan creates ascending air currents that imitate convection currents of a warm human body.
At the same time this fan also creates descending air currents which suck the approaching mosquitoes into the trap where they dehydrate and die.


LED PRODUCTS
led info
home led
business led
underwater led
retrofit led

SOLAR PRODUCTS
solar solutions
caribbean sunkits
solar poolpump
solar boiler
solar airco
solar partners

ECO PRODUCTS
happy glass
mosquito traps
© 2013-2020 BON ECO SOLUTIONS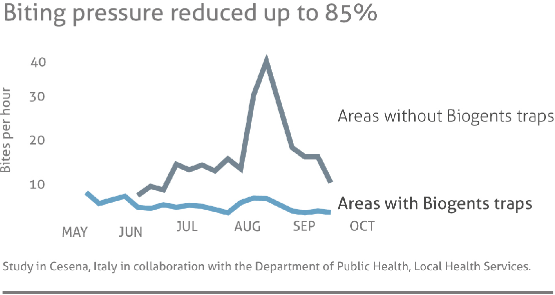 Additional visual cues help to attract the mosquitoes towards the trap. The mosquitoes also recognize the artificial human scent that is emitted with the ascending convection currents of the traps.

The traps continuously eliminate mosquitoes and disrupt the natural population growth through environmentally friendly and selective measures without the use of insecticides or pesticides.

They do not catch beneficial insects such as bees, butterflies, moths, or lady bugs unlike conventional UV-light traps. They are also easy to handle and operate and consume only 4 Watts.


Introduction to Biogents mosquito traps.